Saw Blade Tension Gauge
Correct band tension is vital to ensure cut straightness. The RÖNTGEN tension gauge quickly and simply measures the exact blade tension while it is mounted on the band wheels. An optimal tension of 300 N/mm² is recommended for RÖNTGEN bi-metal blades with 4% chrome backing strip.

This will help to avoid off-square cutting through low tension or blade breakage and machine damage through excessively high tension.
Refractometer
Soluble oil coolant makes an important contribution to extended blade life. It lubricates tooth tips to reduce wear and removes excessive heat from the blade and workpiece. At a recommended oil concentration of 8% - 12%, the emulsion will perform both the lubrication and cooling tasks.

The oil to water ratio is measured by the RÖNTGEN refractometer and can be read off a scale visible through the eyepiece.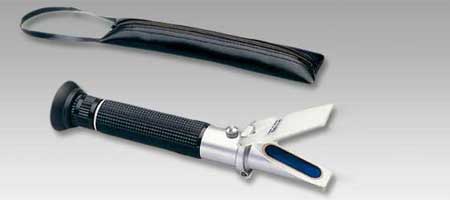 Wedge to prevent kerf closing
Steel wedge to prevent blade jamming inside the kerf.
Mobile Feed Measuring device
A constant feed rate is required to archive high durability of the band saw blade, and a high cutting performance.

The Röntgen VM – 500 allows a fast and precise measurement of the feed rate even during the sawing process.

A wrong or incorrect feed rate will be digitally displayed directly and can be adjusted.

The Röntgen VM – 500 is ready to use in a few seconds; and will be stored in a save aluminum box.